Certifications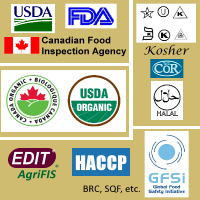 Contact AgriFIS if you are planning to Certify or re-Certify your Plant Programs, or next Product. We will develop the Procedures and Protocols required for the Program. You choose the Certification Body (CB), we create the Program.
Regulatory Audits
US FDA

USDA/FSIS

Canada CFIA
US FDA, USDA; Canada CFIA

As your Regulatory Partner, AgriFIS will

Prepare you for an FDA/USDA Inspection
Handle a live FDA/USDA Inspection
Prepare & Complete Audit Documentation
Provide an Effective Response to FDA Form 483
Handle Post-FDA/USDA Inspection issues
GFSI – SQF, BRC, etc.

Develop, Implement and Train you in the program you select. You have the choice of the Certification Body (CB)

HACCP

Develop & Build HACCP plans and train your teams.
Consumer Certifications
USDA Organic

Canada Organic

GMO & Gluten
USDA Organic

Develop or Enhance your Organic program for Certification or re-Certification

Canada Organic

Develop or Enhance your Organic program for Certification or re-Certification